1. A picnic at your favorite spot


You can't go wrong with a nice picnic. Get some fried chicken some corn  , some good old fashioned picnic foods and have at it. Depending on where you go you might want to see if you can bring a bottle of wine with you and eat a great lunch with your partner. A beautiful spot on the beach , a nice day at the park or perhaps you have another place in mind, perhaps some hilltop around the evening so you can watch the sunset. This is a good idea because it incorporates the beauty of nature as well.
Will you accept a FREE GIFT?
"101 Romantic Ideas"
Some presents are free! Here are 101 Romantic Ideas that won't break the bank.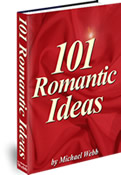 2. A trip to the beach


watching the sunrise or sunset would be fun at the beach, especially with the waves coming in and out, very peaceful and relaxing. Need a good idea as to the what a beach trip would be like? Check out one of those Corona beer commercials.
3. Surprise her with flowers


Sending flowers to her place of work is a great idea, even better have some sent to the house and pretend they aren't from you, then put "i lied , they're from me" on the card and watch her reaction.
4.A nice dinner 


A romantic dinner for the two of you would be great for Valentines Day. Take her to one of those fancy fine dining restaurants. Impress her with Her favotite cuisine and a bottle of wine.
5. Go to the movies  


If you don't have much money for wine or fancy dining (and who does in this economy), you can take her to one of those romantic chick flicks.
6. Cook dinner for her 


Going out is great, but for all those who are married with children, getting a sitter and going out can be a hassle, especially with conflicting work schedules.
7.  Do something unique


Rent a hot air balloon and go for a ride, take her somewhere out of the box, you know her better than anyone, a good idea can be based on a shared interest or hobby that holds interest for you both.
8. Moonlight stroll


Love can be more than just money and gifts. True love is based on emotions and feelings and anything you can think of is romantic (not necessarily expensive) will bring you closer together.
9. A concert 


If you don't know what kind of music she likes, find out and take her to a concert, or take her to someplace that has music, they say music is the language of the soul.
10.  Make her a mixed tape 


Listening to your favorite songs while doing whatever you want together (wink) is a great way to spend Valentines Day.