If shopping for your husband's birthday and Christmas presents weren't hard enough, you're also expected to come up with anniversary ideas for him as well. Whether you're looking to go big or keep things under $50, here are some great ideas to make your husband happy.
Will you accept a FREE GIFT?
"101 Romantic Ideas"
Some presents are free! Here are 101 Romantic Ideas that won't break the bank.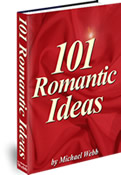 Golfers especially like getting new equipment for their anniversaries. You can go as expensive as a new set of golf clubs or as cheap as a nice set of golf balls. If those are too boring, you can shake things up with novelty golf club covers featuring his favorite sports team or animal. If your husband isn't a golfer, the same idea applies to other sports. Cyclists need new gear and baseball players need new gloves every year it seems like. Go into the garage and see what brands and sizes he uses for a better surprise.

One of many good anniversary ideas for him is a fun game. Whether you play games with him or not, a gaming guy always appreciates a shiny new toy to play with. Amazon offers both new and used consoles and games. If money isn't an issue, get him the gaming console or handheld he hasn't bothered getting for himself yet. Xbox, Nintendo Wii, and Playstation are all popular models. For the guy who has them all or is dedicated to one brand, pick him up a new game. Most of them can be had for both new and used for less than $50.

Surprisingly, some men do like getting new clothes for presents. You probably know his style best, but double check the sizing before buying anything. You can go as cheap as a nice tie or as crazy as a brand new three-piece suit for work. If you're like most women, you probably think he's pretty good looking in those anyway. Win-win! (Don't forget the shoes, socks, watches, and cufflinks either! Mix and match according to your budget for a great look.)

Most guys love to get dirty in the yard and garage, but may not ever bother to pick up their much needed tools. Amazon offers the latest and greatest power tools (buy new if possible) that are sure to have your guy salivating. If he's more hands on or your budget isn't as accommodating, think small and get him a new tool belt or non-powered tool. Who knows? Maybe he'll finally get around to fixing some of that stuff around the house!
Some guys just want to kick back with a good book instead of going out to play games or chores. Amazon offers pre-orders on the big up and comers, as well as freebies and cheap versions of the classics. But it wouldn't be a section about books on Amazon without mentioning the Kindle Fire, which can double as a tablet. Load the thing up with some great E-books before handing it off to your husband.
Your next anniversary doesn't have to be a nightmare trying to come up with anniversary ideas for him. If budget isn't an issue, Amazon offers expedited shipping on many items. If budget is an issue, then there are many quality used goods to be found. Pick something up and make your next anniversary special.