Father's Day is coming quickly, so it's time to begin thinking about what unique gift you will wrap up for your dad. Hopefully it will be something he will treasure and enjoy. If you are three, a hand drawn picture or a game of backyard baseball may cut it, but if you are older you're probably looking for something with a little more pizzazz. I've been searching myself and have found many items online through websites like Amazon.com, and not just books. So here are my top 8 gift ideas for men on Father's Day:
Will you accept a FREE GIFT?
"101 Romantic Ideas"
Some presents are free! Here are 101 Romantic Ideas that won't break the bank.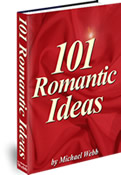 If you are looking for a gift that is more on the top register of expense you may want to consider a few of these items listed. Binoculars are a great gift for the dad who enjoys outdoor activities like hiking or sporting events. There are very high end binoculars and some that are still very powerful, but less money.
An XM radio set with a subscription can also be an excellent choice if you have a little more to spend on old dad. It hooks up relatively easily and can be programmed to go to his favorite channels.

For slightly less money you can still get a very nice gift like a blue tooth, especially if your father travels for business, or seems to try to text and talk while driving. Be sure to research the different kinds since they vary in reliability quite a bit.

Father's with some younger children may enjoy getting their dad an electronic picture frame and loading it up with pictures for dad to set on his desk at work, or if small enough, to set up at the hotel on a business trip for a reminder of home.

A present I saw online that I know my husband would enjoy are laptop speakers. They hook into the side of the laptop through a USB port. The sound quality needs to be researched before you buy a set, but many of them offer high quality sound for the laptop.

Of course, not everything has to be electronic. For the father who doesn't rely on the electric razor, there are some classic looking razor sets that are practical, but still stylish enough to leave out on the cabinet.

As we move on down the list, grilling comes to mind. There are of course grilling sets, aprons, hats, and more paraphernalia for grills than you can imagine, but one thing Dad may not have is a grill thermometer. It tests when the meat is to the optimum internal temperature without having to cut up that beautiful steak and look inside.

Some items on a less expensive spectrum would include great books that your dad would enjoy, but maybe has not taken the time to buy for himself. Add in a book light for nighttime reading, or a bookmark with special meaning for an extra touch. Whatever you decide to purchase for your father, try to put in some thought and make it personal in some way. He is your dad—he deserves more than just another tie!