Whenever you are looking for a smart gift to buy the guy on your shopping list, there are plenty of great options to choose from. Today, you can pick from a variety of products to put together a thoughtful and memorable gift basket that will bring a smile to his face upon seeing it. No matter what he might be into, you will find that a gift basket is the perfect way to pamper him and shower him with all sorts of gifts and products that he absolutely loves. With a little bit of imagination, you can really come up with a cool gift basket for any guy you are thinking of.
Will you accept a FREE GIFT?
"101 Romantic Ideas"
Some presents are free! Here are 101 Romantic Ideas that won't break the bank.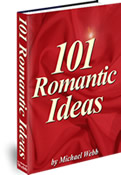 If you are looking to buy something special for a guy in your life who loves fishing, think of putting together a fishing themed gift basket. Instead of a traditional basket, look for a gift ensemble using a brand new tackle box as the vehicle for all of the treats inside. Items to go in this gift basket idea can include everything from lures and hooks to fishing line and bug spray to help him keep pests away while he is out enjoying a day on the water.

For the grill enthusiast, there is nothing quite like a basket that is loaded with some of the best barbecue accessories known to man. With a variety of hot sauces and all sorts of rubs, you can give him a hot and spicy gift that he will love. To round off all of the spicy sauces, he can even enjoy a handful of spicy peanut varieties while he is outside manning the grill with his new condiments.

When you are shopping for a guy who is always handy with tools, you can think of buying a sort of handyman's toolbox that is filled with all sorts of treats. With all sorts of delicious crackers, cheese spreads, roasted peanuts, cakes and cookies, you really have a gift filled with delicious ways to show him just how much you care. Because of the tool theme, you will also be showing him just how he is appreciated for all that he does with his hands.

Even a guy who likes things on the healthier side can enjoy a gift basket filled with goodies. An organic and healthy gift basket is the perfect way to pamper him without all sorts of artificial flavors and preservatives. Treats such as natural healthy mix, organic peanut butter cookies, delicious teas and cherry sweets are just a few of the things that he can enjoy when he dives into this thoughtful gift.
As you shop for a guy who likes to get away from it all for a day on the rolling green, there is the golfer's delight snack box filled with some of the best possible treats. With a great golf theme, this basket has all sorts of goodies including tasty candies, perfectly roasted peanuts, savory cheese straws and delicious cookies. When you need to get something to show your golf enthusiast just how much you care, there is nothing quite like a goodie basket filled with these favorites.
No matter what the reason may be for shopping for gift baskets for him, you are going to find that there are plenty of great options to choose from. Picking a theme basket is both fun and easy, especially when you have so many great items to go into them. Father's day, birthdays, anniversaries or even a promotion at work are all great reasons to buy a gift basket for him to celebrate. You can always bring a smile to his face with such a thoughtful gift basket surprise.